Who we are
Having tested the waters of fashion and food, Sabine Schmitt, Co-Founder of OnlyRoses, found herself still searching for the product to match the luxury and style of her heritage. "Why don't you do roses?" her mother asked… A simple question that would lead to a beautiful answer.
Little did her mother know, that question would inspire her own budding rose to find her passion. An inspiration that would build a brand synonymous with her lifestyle and her love of all things refined.
OnlyRoses was born in 2007 by Sabine and Anian Schmitt, a husband and wife team driven by their passion and determination to find the world's best roses – as only the best would do. This started their adventure that would take them from the snow-capped mountains of the German and Swiss Alps to the black volcanic slopes of Ecuador culminating in OnlyRoses – the true source of The World's Finest Roses.
The brand opened its first store in London 9 years ago and has gone from strength to strength opening stores in the Middle East and most recently a flagship store in Beverly Hills, Los Angeles. They are excited to continue their expansion throughout the USA, Europe and Asia.
OnlyRoses is passionate about social responsibility, sourcing their roses only from farms certified to meet the highest social, labour and environmental standards.
With Anian's focus on keeping Innovation at the forefront, the founders developed the InfiniteRose, real roses that last up to a year. Working with their farms in Ecuador, they created the OnlyRoses InfiniteRose design and coupled with Sabines ethos of elegance and luxury, produced the ultimate gesture. Elevating the humble rose from a flower – to a luxury gift.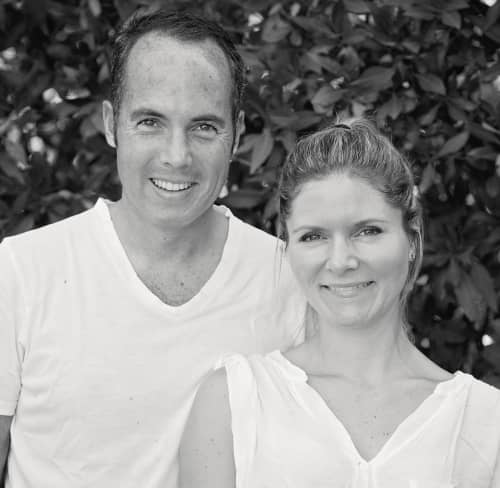 How We Started
"We literally started from the ground up. In the very early days, in 2007, it was just myself and my husband, Anian. Shortly after a trip to Ecuador to visit dozens of rose farms and learn about roses, rose breeders, and the rose growing industry, and meet with people from the business, we started our London operations from a flat we rented and were living in at the time, on Hogarth Road, in London's Earl's Court. We stored our first shipment of approx. 1000 fresh-cut roses that we had shipped from Ecuador, inside our apartment, and prepped the arrangements from there, and delivered them to our friends and family throughout London, to get their feedback on the quality and experience. Imagine an entire home filled with nothing but roses, and myself and Anian rushing around, making bouquets and deliveries.
Shortly afterwards we opened our first store in London's Earl's Court. It was such an exciting time and a huge amount of work, and I remember during the Valentine's period only a few months after we opened our first store in Earl's Court, on the Old Brompton Road, we would be swamped with orders for nothing but red roses.
Since then, things have gone from strength to strength as we've since opened franchised stores throughout the Middle East and now another one of our own stores in Beverly Hills, Los Angeles. What we are most proud of are our amazing and talented team, without whom we would not be where we are today, and our wonderful franchise partners and store locations, and finally, our extremely loyal clients who have made all this possible. We've had the pleasure of working with some incredible clients - from the royal families - through to celebrities - I can never quite believe it when such esteemed people have heard of, and furthermore love our brand!"
Our Difference
We pride ourselves in offering only the World's finest roses, from a handful of ethically-working farms in the Andes of Ecuador. They grow high up in the mountains, in an altitude of 12.000 ft. above sea level, where the intensity of the sun light is very high, and in volcanic soil, which is very rich in minerals. Our roses are unparalleled in their quality and like no roses you have ever seen before. Our roses are never grown in greenhouses, but only in the natural climate. Ecuador is right on the equator, allowing for a consistent climate and temperature all year round. All of these factors combined not only foster healthy growth but result in the World's finest roses. Our roses grow incredibly tall (up to 5ft!), have exceedingly strong stems, huge blooms and are bursting with the most vibrant colours. However, it's not all down to location. It's also down to the care that our farmers put into each and every single rose, and our team's excellent quality control. Luxury is always in the detail and we don't ever neglect a detail. Each rose is checked, double checked, and looked after from farm to store. Our roses aren't just special roses because of how they're farmed. It's the varieties we choose and our strong emphasis on quality. We carry more than 250 different varieties of fresh roses (we call them our Classic Roses). Not every rose variety is always of the same quality though. It depends on which farm these varieties are sourced from. For example: One farm may have the perfect formula and conditions for growing a particular variety, allowing for perfect strong stems, beautiful sized buds, vivid colours and bulbs that open magnificently. Whereas another farm, attempting to grow the same variety, may not be able to match that same quality and they key is knowing the difference. In Ecuador, there are many rose farms - cultivating beautiful roses - in many different rose varieties, and we make sure we choose the best farms for the best varieties.
Let's not forget our Infinite Roses. Infinite Roses are real roses, that have been preserved to last - several months, up to a year - without water. They maintain their beauty - without any water or upkeep - so all you have to do is enjoy them. Again, we only preserve the finest luxury roses and our Infinite Roses are all real roses.
Finally, each of our esteemed florists is highly trained and skilled with their craft. Offering the World's finest roses is one thing, but presenting them as perfectly as they deserve to be is another. This comes down to our innovative design team and dedicated florists. Each rose is given the luxury treatment and handled with caring and skilled hands, from their arrival at the store to their arrival at the client's doorstep.
The Experience
"We have essentially re-imagined what a flower shop can be and we have disrupted the floral industry altogether. When people visit one of our stores, they are usually taken by the simplistic and elegant presentation of our luxurious gifts made of 'OnlyRoses' - in a signature OnlyRoses style - that is always recognisable and unique. From the moment clients walk into one of our boutiques, to the moment they unwrap their gifts – the brand experience is seamless and luxurious. We have created something new that has never been there before."